Brexit talks are under way
The Brexit talks finally, officially, started on 19 June, 2017. Here's a picture from that first session of Brexit talks: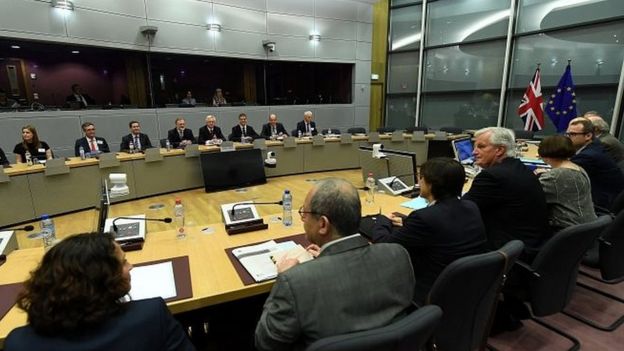 The UK and EU negotiating teams are scheduled to meet face-to-face for one week each month for the Brexit talks. Their first tasks are trying to get an agreement on the rights of UK and EU citizens after Brexit, reaching a figure for the amount of money the UK will need to pay on leaving, and what happens to the Northern Ireland border.
In the first phase of negotiations, British and EU officials are meeting each month for four days in Brussels, the home of the European Commission.
So far, there have been two rounds of Brexit talks. The first one, in June, was largely a get-to-know you session in which both sides sized each other up, engaged in a few official pleasantries and discussed scheduling issues.
July's session was much more serious and detailed, with full discussions taking place in four key areas: the rights of EU citizens in the UK and Britons on the continent, the future of the 300 mile land border between Northern Ireland and the Republic of Ireland, general separation issues, and the question of money.
Matters are at an early stage and there has been no agreement in any of these areas yet. The two sides will next meet in the last week of August for further Brexit talks.
Who is David Davis ?
A former SAS reservist, who grew up on a south London council estate, David Davis is a political maverick who had carved out a career as a champion of civil liberties before his unexpected return to front-line politics as secretary of state for exiting the EU.
Initially seen as an ultra-Thatcherite, he was elected to parliament in 1987, at the age of 38, after a career in management with sugar giant Tate and Lyle.
Despite his Eurosceptic views, he served as a government whip under pro-EU Prime Minister John Major in the early 1990s, attempting to get rebel Tory MPs to support the Maastricht Treaty, which paved the way for closer European integration.
He later served as Major's Europe minister, helping to negotiate some of the agreements with Brussels he is now charged with unpicking.
His "hard man" image, working-class background and staunch right-wing credentials made him the front runner to replace Michael Howard as Conservative leader in 2005.
He lost out to David Cameron, who made him shadow home secretary, where he carved out a distinctive niche for himself as a defender of traditional British freedoms.
In 2008, he dramatically resigned his Haltemprice and Howden seat, and his frontbench role, to fight a by-election in protest at Labour's plans for identity cards and 42-day detention without charge.
He won easily but rejected a job in the coalition government in 2010 to continue his civil liberties crusade from the backbenches, often in conflict with then Home Secretary Theresa May.
He was involved in legal action against the government over Mrs May's data retention plans – dubbed the "snoopers' charter" by critics – when he got the call to join her cabinet.
It was the first time in his long and colourful career that he had been put in charge of his own government department.
For more information, buy the book Doing Business Post Brexit by Helen Tse and published by Bloomsbury. Click on this link here